Sisterhood is so may things to so many people...
I am one of the lucky ones...
I have 3 big sisters.
My girls have each other...
sisters for life.
But what about those other sisters...
the ones you choose...or who choose you...
like sorority sisters.
I always wanted to be a sorority sister!
Because...

Sisters are a warm smile on a cold and rainy day
a friendly hug, a cheerful hello.
"Just because" presents.
Sisterhood is all that a good and lasting friendship is,
only better!
It's treasured. It's sacred.
It's knowing that there will always
be someone there for you, no matter what.
It's sharing...ideas, tips, thoughts, dreams, goals.

It's counting on and being counted on!
It's..the Bloggerettes Sorority Sisters!"
Yep...in addition to being a sister to Kathy, Nancy and Debbie...
I am a Bloggerette Sorority Sister!!!!!
And I am so excited!
This is going to be fun...
a new adventure...with new friends!
I missed "rush week", where the fun project was to
take this photo

be creative with it and then show the sisters our work.

Well...missed that one! But they still let me in:)
I don't know a lot of the sisters yet...but the Sorority President, Karen
is one friendly, creative, beautiful and amazing person, I can tell you

that much already!

So if you want to be a Bloggerette too...
hurry on over to Karen's place at Some Days are Diamonds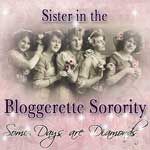 Won't you join us?
~~~~~~~~~~~~~~~~~~~~~~~

And if by chance you are a CREATIVE Sister, be sure to check out

my 4th of July Giveaway HERE!!!
All kinds of glittered goodies straight from PARIS, FRANCE to
make something super extra special!