so what about it?
are y'all having FUN and making lots of MEMORIES this summer?
been working hard on that summer bucket list?
well, don't worry.....there's still time!
if you're planning a beach vacation,
check out these cute things.......
(click on the photos to be taken to the shopping site)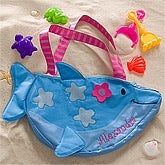 an adorable personalized little dolphin beach bag filled with beach toys.
and.....
a personalized chair and umbrella set.
or if sleepovers are in your future.......
this bag is a MUST!
Personalization Mall is one of my favorite places to shop....
check out one of those three above for gifts or just for fun:)
(okay, okay.....no more shopping:)
well.....nothing major.
this outdoor chalkboard is such a COOL idea from Lowes......
but who has time to put the pieces together and assemble?
I guess if you need it this big,
maybe.
but you could paint chalkboard paint on any old framed mirror or picture
you find at a garage sale.
Or just buy a piece of ply wood, sand and seal it REALLY good,
then paint on a frame and hang it up.
TONS of summer fun:)
I saw this at Holiday Crafts and Creations.com.
But then again, these flower balls are made from paper flowers you put together.
personally, being the lazy person that i am,
i would buy styro balls from your craft store, cheap, bright flowers and styro glue
(or hot glue) and voila.....
you have pretty flower balls hanging from the trees for summer parties!
how about a "twist" on a favorite board game?
spray on dots to make a HUGE twister game in the backyard.
have you heard of those 30 day photo challenges?
how about buying the kids a throw away camera and making a challenge for them?
then, put together a little album for show n tell in the Fall.
ideas for daily photos are as simple as;
*what you had for breakfast, lunch...
*favorite summer snack
*BFF
*summer splash
*bike photo
*family photo
*their bedroom
*favorite stuffed animal/toy
*ice cream photo
*find a bird/butterfly photo
*picture they colored/drew
*something orange/blue/pink.....
*flower
*something they found.....
anything really!
can you tell i really like this idea?
and Mom...while they do their little photo shoots,
sit back and have yourself a little
Peach Flip
~frozen peaches, lemonade and sprite in the blender
that's it for today.
except one quick reminder.........
fun little summer moments spent at home,
doing simple things like playing in the backyard, coloring or taking photos
may be the best gift you can give.
think about it.......
in a world of iphones, computers, video games and sports camps,
giving kids the chance to have quiet time, unstructured time may
sound crazy but with school around the corner,
very much needed!
i don't know it all,
far from it.
some days i think i know very little!
but i know one thing.......
i wouldn't trade lazy summer days with my girls when they were little
for all of the camps, activities and games in the world.
just hanging out is good,
which is why the focus here is time together,
HAPPY times together.
XOXOXOX
Suzanne