happy friday!
is it me, or does it seem like the week seems to
fly by REALLY fast???
probably just me.
probably because it makes me realize what i DIDN'T get done during the week:)
oh well...
at least i have a friday favorites post done.
so here we go with some stuff i love on friday...
and remember to click the link at the bottom for my giveaway info!
i mentioned this week i am CRAZY about polyvore.
look at some of my favorite things, all in one nice box.
1. NYX make up.
i know i just did a makeup post recently.
but in that post i mentioned a CHEAPO lipstick that someone said was
pretty GREAT.
well...yesterday i found it at ULTA...
as well as foundation, mascara, eye pencils...all kinds of goodies.
while i don't have all the things pictured,
i am really HAPPY with what i do have.
and like i said, i didn't drop a bundle in the process.
okay...just a few more favorites for today...
i love healthy eating tips that seem Do-able.
like these healthy snacks...
i LOVED (notice i say "loved") this when i first saw it in
FEBRUARY.
now that it is mid-march, i wish i had followed it.
but that's the beauty of it...tomorrow is another day:)
and last but not least,
i love little inspirational quotes.
this one is so sweet...and so true.
so whether you can carry a tune or not,
for today,
SING out loud:)
happy friday everyone.
linking up with friday favorites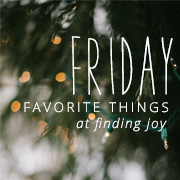 so pop over and see some more favorite things!
and whatever you do,
don't forget my awesome iPhone cover giveaway that ENDS tomorrow...
click
HERE
for info...
XOXOXO
Suzanne